Teal Hollmann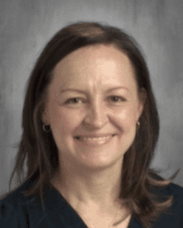 Marian Battey Andersen and Charles Wheaton Battey Outstanding Teacher Award
About the Award: This award recognizes outstanding leadership or potential for leadership at Sheridan Elementary, Irving Middle School, and Lincoln High School.
Amount Awarded: $2,250
Nominated By: Parent
Nomination: 
Teal Hollmann is an exemplary teacher. In the short time she has been working with my son on his reading intervention, he has come leaps and bounds from where he was when he began his Kindergarten journey.
Teal takes so much care, time, and commitment to her students in the form of sending reading packets home every single week, giving reading prizes, and more. This money could directly benefit everything that she does. She would be able to continue purchasing nice, new folders for each student to use, new books for reading homework, prizes for accomplishments, and other in class products and supplies that she needs on a daily basis.
I receive weekly updates from Teal via email, as well as physical reports each week when she sends my son's new reading folder home. She takes the time to sit down with my son to figure out the best way for him to learn. She listens to him, is understanding and compassionate with him. She takes the time and care to alleviate any worry or concerns on my husbands and my part, and at the same time, challenging my son to further his progress without making him feel inadequate or "not smart enough."
Before I met with Teal for this first time during my son's first Parent Teacher Conference, I had heard nothing but glowing remarks from her colleagues and my son's teacher; when I met her, those remarks were confirmed. She is positive yet realistic. She works so well with my son and has patience that I could only dream of possessing. When meeting with her, she was clear, concise, she explained aspects of what my son was learning in class thoroughly and transparently. The respect and admiration she has gained from her peers as well as my son and myself prove to me that she is an incredible leader and teacher.
Teal personally makes every single book that is sent home in my son's reading folder to my knowledge. The level of time and commitment that takes to create a VAST number of reading materials is astonishing. She met with me and took the time to speak with me without having an appointment and before her block of conferences were to begin, but she did so because she cared enough about my understanding of what she does that she did so anyway. She answers every single email I have sent her way in such a timely manner and with the utmost respect. She also helps implement the standardized testing for reading at Sheridan Elementary school, and that is a feat that should not be scoffed at.
I fully and wholeheartedly support Teal Hollmann to receive this award to help further her incredible impact.