Mike Robb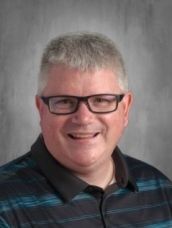 Mike Troester Outstanding LSE Educator Award
About the Award: This award recognizes educators at Southeast High School that display the qualities displayed by Mike Troester during his teaching tenure:
Lifetime commitment to teaching
Fair treatment of all students
Approachable and kind to all students
Encouraged students to "go the extra mile"
Use of outside resources and new approaches to old material in the classroom
Encouraged both veteran teachers and new staff
True educator, sharing his abilities with faculty and students
Amount Awarded: $450
Please describe how the nominee exemplifies excellence in teaching music and uses music to enhance the school's culture and community.
Irving Middle School is committed to student excellence in vocal music and choir opportunities. Mr. Robb has developed one of the most influential music programs across all of Lincoln Public Schools. In addition to our regularly scheduled vocal music courses offered to 6th, 7th and 8th grade students, Mr. Robb has over 250 students participating in before school choir, which is facilitated Tuesday and Friday.
How does this nominee encourage and stimulate music interest and how has that directly impacted students? Give specific examples.
In order to continue to grow students love of music Mr. Robb piloted a 7th grade Music exploration class a few years ago, which has allowed he and our Band and Orchestra teachers to collaborate regularly. Students taking music exploration learn about the history of rock, drumming and ukulele. Students that indicate further interest in Vocal Music opportunities have the option to enroll in a class in preparation for 7th grade musical productions. Since the time of implementation, this has expanded into Mr. Robb facilitating 3 different musicals!
How does the nominee foster creativity, performance, and student response to music through instruction?
Not only is our musical a big hit at Irving, all of our choir concerts are standing room only. Mr. Robb establishes strong working relationships with even the most reluctant learners students flourish in his classroom, gaining confidence and for a love of music/performance. Mr. Robb is a positive culture builder he supports our mission and does all he can to welcome students to participate in his programs and classes. He is one of the best teachers I have ever gotten to work with and I hope he'll continue to help us develop a positive school community.