Kelly Apel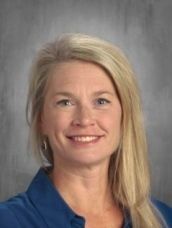 Marie Bourke Leadership Award
About the Award: This award recognizes an outstanding LPS principal and the impact they have on the lives of students and teachers.
Awarded Amount: $1,000
Nominated By: Parent
"Kelly Apel is truly an amazing leader. We have had the pleasure of having children under Mrs. Apel for 6 years now. Mrs. Apel is such a genuine, empathetic, and efficient leader. I have had many interactions with Mrs. Apel over our time together that have included academics, behavior, attention to any issues my children have brought to me or concerns I have, and community involvement. Mrs. Apel is eager to ask for and take input from stakeholders, and over the last several years she has developed many community engagement opportunities that have allowed parents and families to get creative and be truly involved in their children's educational experience. She sets an excellent example to parents and families, and even to children on what it looks like to have a positive attitude and to make things happen. She always creates space for conversation, problem-solving, and expression in a way that makes families feel included and like we are a crucial element in the school's success and most importantly, Mrs. Apel's vision and objectives.
The vision at Brownell is "All in, every day." This is shared with students and families constantly. When you walk through the school, you can see visuals that represent this. Staff members constantly share this vision in their attention to children, and it is lived very directly through Mrs. Apel. Mrs. Apel has created a school culture that is centered around students and meeting the needs of students and their families. This culture is welcoming, helpful, and makes families feel welcomed and that their children are safe and cared for. As a member of the SNAC committee at Brownell, I have seen Mrs. Apel in real time asking questions and making decisions that are inclusive and centered around each student having their needs met.
Mrs. Apel has been advocating and building the parent committee for several years. When COVID hit, Mrs. Apel created Zoom family engagement nights with things like Disney Trivia that were accessible and so many families joined. I remember thinking how she was still so focused on students and families during such a tumultuous time for our children. It showed her passion so boldly and I felt extremely grateful to have my children at a school where the leader was so passionate. Additionally, she has allowed the parent committee to come up with family engagement evenings countless times, and last year we were able to have each student receive a tshirt at no cost due to the fundraising the parent committee did. In these instances, it is very obvious how her focus is each and every child, each day. It has put systems in place that allow for greater ease in the future.
Mrs. Apel has focused greatly on student achievement. As a parent, one way that I see this is in the offerings of clubs that are present each quarter. As part of the CLC programming, there are individual clubs and programming specific to academic support. This infrastructure truly displays the focus on academic achievement. Additionally, Kelly has supported newer, research based initiatives like student led conferences, to move in the direction of a more engaged set of students and teachers and staff that support. These are just a couple of examples of how Mrs. Apel focuses on students at the center of her work. She is willing to try new things, support her staff in getting them done, and does it in a low-affect way that makes it more sustainable.
I can speak to my own personal experience with Kelly. I worked through Doane's EDL program where I needed to spend time shadowing leaders in grades PK-12. My experience has been with high school, so I knew immediately that I would be asking Kelly. This happened right before COVID hit, and we were in almost constant contact as we were working through scheduling. Though, we weren't able to meet and shadow due to COVID constraints, she had many conversations with me about the questions I had. She was so informative, encouraging, and open. Additionally, she is responsible for encouraging upcoming leaders in her building to pursue leadership and provides them with opportunities to grow. She encouraged a classmate I had in Doane's leadership programming to pursue her leadership degree. As a parent, she also provides many opportunities to lead the committees and move them in whatever direction the families and community are thinking, while teaching and providing resources to all involved. She really amplifies so many voices and allows for leadership opportunity in many forms."