Dr. Dawn Mazzie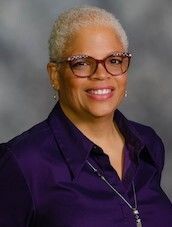 Leola Bullock Multicultural Award
About the Award: This award recognizes an LPS employee who has been an innovative leader and made a significant contribution to fostering understanding of our multi-cultural society through developing and implementing District programs.
Amount Awarded: $1,000
Nomination By: Kathy Christensen, coworker, Assessment and Evaluation Department
Nomination:
I am honored to nominate Dr. Dawn Mazzie for the Leola Bullock Multicultural Award. Throughout her career, Dr. Mazzie has been a leader in promoting multicultural awareness and helping school personnel to be knowledgeable about their own culture, as well as to understand the importance of personal relationships and how one's culture and socialization impacts how they interact with others, especially students.
Dr. Mazzie has helped lead a group of teachers in a yearlong class called DIVE Deep Investigation into Equity. During the class, teachers read quality literature on a specific multicultural topic or perspective and then explore their understanding through personal connections, speakers, group discussions, and additional readings and activities. Ultimately, the goal of this district class is to broaden the individual's knowledge and awareness of their own and other's perspectives and experiences and apply this understanding and appreciation to the students in their own classrooms.
Additionally, Dr. Mazzie has helped present to the Assessment and Evaluation Department's Multicultural Proficiency Committee. She has helped with the department's exploration of multicultural topics such as Islam, mental health, poverty, racism, prison reform, and other forms of social justice. As a result, the department has grown in both its knowledge and understanding of these issues, but also in the trust and understanding of one another's strengths, experiences, and challenges. The end result is a department of individuals that has more trust and appreciation for each member and is therefore able to work in a cohesive, efficient manner and approach district tasks with an eye to multiple perspectives.
Dr. Mazzie has also been part of the district Cultural Proficiency Steering Committee. This committee helped frame the transition from multiculturalism to cultural proficiency across the District. She worked with the steering committee to develop and present a workshop on cultural proficiency to a range of school leaders, counselors, teachers, coaches, and school personnel across the District. The goals of the workshop were to deepen an understanding of cultural proficiency on a personal level, to strengthen culturally proficient practices in the workplace, to identify barriers to change arising from diversityrelated issued, and to develop strategies to help staff use the cultural proficiency lens in all of their work.
Another important contribution of Dr. Mazzie has been to work with the Superintendent's Equity Advisory Team SEAT. She began this work under the leadership of Dr. Joel and has continued to be part of the team under the current leadership of Dr. Gausman. The SEAT committee acts as a sounding board for equity initiatives and actions around the District.
Finally, she also sits on the Community Multicutural Advisory Committee so that the greater Lincoln Community stays informed of the progress the District is making in the area of equity and inclusion. This committee helps build trust and collaboration between the schools and community leaders.
For all of these reasons, it is evident that Dr. Mazzie has had a large impact on establishing and expanding our district's multicultural goals. She is a very deserving candidate and should have her longterm work in this area celebrated and recognized by receiving the Leola Bullock Multicultural Award.