Brittany Lanik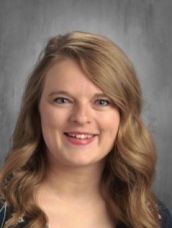 Dolores N. Mather Award for Language Arts Teaching
Amount Awarded: $1,500
About the Award:
The Dolores N. Mather Award for Language Arts Teaching was established in 2018 by Marcia Barkley in memory of her mother Dolores Mather, a former elementary teacher at Prescott, Brownell, Pyrtle, and Elliott elementary schools. The award shall be used to support the professional development of language arts teachers. 
As a teacher Dolores always emphasized language and reading and had an uncanny talent for helping students find their unique talents. Dolores listened to her students and found creative ways to teach each individual child. She also believed teachers should want to learn and improve by continuing their own education.  The award is to be used to support the continuing education of the award winner. 
Nominated By: Kelly Apel, Principal
Please describe how the nominee shows enthusiasm for teaching reading, writing, and language arts.
One of my favorite sounds in the Brownell hallway's can be heard coming daily from from Mrs. Lanik's kindergarten classroom between 9:30 AM and 10:10 AM. It is the happy voices of kindergarten students decoding and segmenting words that have a certain sound spelling pattern. On occasion the students will erupt in laughter and of course I must peak to see what Mrs. Lanik is doing to keep their interest high which I know in turn increases their participation. Sometimes she is on the floor and she will chuckle and tell me her student's "blew her away" with their awesome reading skills. Other times she is doing some sort of trick, a silly dance or standing on her head, that she promised to do if all students participated. Sometimes she has a special guest, usually a stuffed animal of some sort, who is observing their "awesomeness." Since whole group phonics instruction can become a bit monotonous, her enthusiasm and sense of humor keep students wanting to participate. Mrs. Lanik is our kindergarten team leader. Over the past five years our kindergarten report card reading scores have increased by 25 percentile points. This year, we surpassed the district average by 12 percentile points in the area of fluency, which means we are a Title 1 school that is outperforming non Title buildings. This is largely due to Mrs. Lanik's enthusiasm as kindergarten team leader the last five years. On a regular basis she reviews instructional routines related to teaching literature. This ensures fidelity of teaching the district curriculum and continuity across the grade level. In addition to this, she helps her team to review diagnostic data to ensure guided reading group/intervention placements address specific missing skills. She is relentless in her pursuit to give all students multiple opportunities to read. This includes highlighting kindergarten site words in real world math problems, so, students can practice reading at other times of the day. 
What innovative techniques does the nominee use to encourage and stimulate interest and learning fortheir students? Please give specific examples.
Mrs. Lanik is masterful at creating a literature rich environment that inspires, supports and positions all students as capable. She does this in a variety of ways. For instance, during small group instruction, to help students who are struggling with understanding beginning, middle and end sounds she asks them to create three small balls of Playdoh. Then, she says a word and asks students to smash each ball as they sound out the beginning, middle and end part of the word. This emphasizes the most foundational reading skill, phonological awareness, in a tactile manner, making the skill more likely to transfer into long term memory. Mrs. Lanik has been instrumental in our school wide implementation of Seesaw as a way to build student fluency skills. Students complete a one minute read aloud from a grade level decodable reader that includes multiple words related to the sound spelling pattern focus for the week. They use Seesaw to video tape themselves reading for one minute. At the end of the time limit, students count the number of words read and mark their results on a progress monitor chart. The following day, students listen to their Seesaw recording to make sure they are stopping at punctuation marks and also saying words correctly. Days three and four repeat the same process as days one and two. Students hope to increase the number of words read within one minute, thus increasing their rate of fluency. Students have anywhere between 30 to 60 minutes of independent work time each day while Mrs. Lanik meets with small guided reading groups. This can be a tough time of day to keep students on task and feeling successful; however, that is not the case in Mrs. Lanik class. She uses ECRI pacing and student guided reading group/Wonders data to determine what students can do independently. Mrs. Lanik has tasks for each student that are at his/her ability level. The tasks are organized in color coded drawers. Students also have books they can read independently in their drawer. Mrs. Lanik lists the "must do" jobs which include a paper/pencil task focussed on a site word, letter or sound spelling pattern and then reading one of their books. After completion of the "must do" tasks students get to complete a couple of "you pick" jobs which consist of a hands on activity (examples -making letters out of string or site words out of PlayDoh)followed by something involving technology like listening to a book read aloud, Lexia reading activities and/or a Seesaw job. Because of Mrs. Lanik's deliberate planning, students remain highly engaged in literature during the independent work time each day. 
How does the nominee demonstrate respect for students, their parents/guardians, colleagues, andother school and district personnel?
Mrs. Lanik demonstrates respect for students, their parents/colleagues and other school and district personnel in a variety of ways. Mrs. Lanik helps her students to be leaders in the classroom which has a significant positive impact on the climate and culture. She gives each student contribution jobs such as shutting off the lights, sharpening pencils, leading the line, passing out papers and much more. In addition to this, she thoroughly prepares students to lead things like daily math routines. When students facilitate the learning, Mrs. Lanik sits amongst the students and participates along with them. This too has a huge impact on classroom culture because it shows students she trusts them to lead. When a student is selected to help Mrs. Lanik model how to do something such as use a new math manipulative appropriately, the whole class chimes, "Congratulations (insert student name)." Students are proud of being part of something great in Mrs. Lanik's class. Mrs. Lanik has high expectations of herself and others and students want to meet her expectations. This shows a deep respect. Parents adore Mrs. Lanik. She communicates on a regular basis through a weekly newsletter and quick face to face conversations at the end of the day. She makes positive phone calls and writes positive notes on a consistent basis. Parents trust that she knows their child's individual strengths. They also know she is relentless in her pursuit to help their child grow in all areas including social, emotional and academics. Mrs. Lanik is a learner at heart. She embraces opportunity with a contagious zest. For instance, this year I asked if any teachers would like to use a student led conference format over the traditional parent teacher conference format and she was one of the first teachers to say yes. She had two parents who became emotional during the student led conference expressing they were overwhelmed with hope and gratitude by what their child showed them he/she could do. Mrs. Lanik was selected to participate in the LPS Leadership Cadre. This is yet another opportunity for her to grow her leadership skills and to familiarize herself with resources across our district.