Bre Jones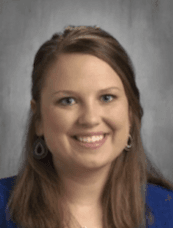 Florence J. Clark Award for Excellence in Middle School Teaching
Amount Awarded: $5,000
About the Award:
The Award for Excellence in Middle School Teaching was established by Florence J. Clark, a former middle school teacher and counselor at Irving Middle School who retired as assistant principal at Mickle Middle School in 1985 after 35 years of teaching and administration. Florence believed that middle school teachers have unique qualities and deserve special recognition. This Award will annually recognize two outstanding middle school teachers in the Lincoln Public Schools. Middle school teachers honored by the award demonstrate excellence in middle school teaching and work toward continuous improvement in student achievement and development. 
Nominated By: Parent
Please describe why you believe the nominee is an outstanding middle school teacher.
Mrs. Jones is an outstanding teacher as she has taken the time to develop student achievement both inside and outside the classroom. She teaches 7th grade science and she also teaches 8th grade leadership. In 7th grade science, she is a kind and dedicated teacher who helps her students succeed. In 8th grade leadership, she partners students with teachers in which students get to help teachers in various ways in the classroom.In addition, Mrs. Jones has gotten to know her students outside the classroom by serving as a coach for middle school athletics. Even when she is not coaching, she shows up at other school activities to show her support for students and staff.
Describe how the nominee has contributed to the improvement in student achievement and development at their school?
Mrs. Jones has helped students to become leaders as well as caring individuals through service to others. She is truly building character for all students and it is so appreciated by her student's parents.