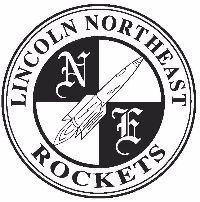 Lincoln Northeast High School opened in 1941 with Bethany, Havelock, and Jackson high school students. The idea for Northeast came about through the vision of five civic clubs in the Bethany, Havelock, and University Place neighborhoods. Over 20,000 Northeast High graduates still carry on the LNE tradition, and former Rockets live in all 50 states.
The Foundation for Lincoln Public Schools has raised money for programs at Northeast that go beyond what tax dollars support, programs that enrich students' learning and enhance the curriculum. Alum Ken Jones has donated money to ramp up Project Lead the Way, a pre-engineering program that hopes to encourage all students to pursue science as a career. The Reeder-Mueller Scholarship for Northeast Seniors was one of the first scholarships established at the Foundation for LPS.
Making a gift is as easy as clicking the DONATE button at the top of this page and noting "Northeast Fund for Excellence" in the description box under the amount field.
Current Stats
Enrollment: 1,469
Staff Members: 205
Click here to see the Lincoln Northeast school profile.