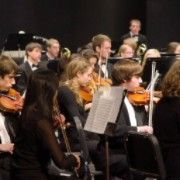 Every two or three years, Lincoln Youth Symphony makes the effort to go on an overseas trip to share their music with a foreign country, and experience the culture of a different nation. As a part of the American Celebration of Music in Ireland, the Lincoln Youth Symphony will be playing several concerts in Ireland! The trip will highlight a number of heritage sites on the Emerald Isle, and students will have the opportunity to share their music at the St. Anne's Cathedral, and the St. Nicholas Collegiate Cathedral! They'll also have a chance to visit old monastic forts, the home of renowned poet W.B. Yeats, and Trinity College, the oldest university in Ireland!
Clark Potter, the conductor of Lincoln Youth Symphony, said that the trip will be part of an important cultural exchange between different nations. "Music is a way to give to the communities, and I'm really grateful for this opportunity."
The time spent in Ireland will be equally as important as the music they'll play. For many students, this trip will be their first time out of the country, and Clark hopes that they will be able to connect deeply with the culture of Ireland. Since they'll be spending much of their time visiting important historical sites, and playing at important heritage landmarks, students will have a chance to really interact with Irish history!
There are some unique costs associated with transporting a whole orchestra, and the Foundation has helped fund some of these expenses. For example, it's impractical to bring a bass or cello onto a plane, so they'll be renting many instruments for use in Ireland! LYS is also hoping to sponsor the trip for a handful of students, so that everyone can benefit from this journey.
Students are already starting to get excited for the trip! Senior Isabella Spaulding said, "We get to travel together as a group and perform in really cool places that have historical significance in term of music."
The Foundation for Lincoln Public schools is proud to have helped fund this trip, and we hope that Lincoln's young artists enjoy themselves overseas!