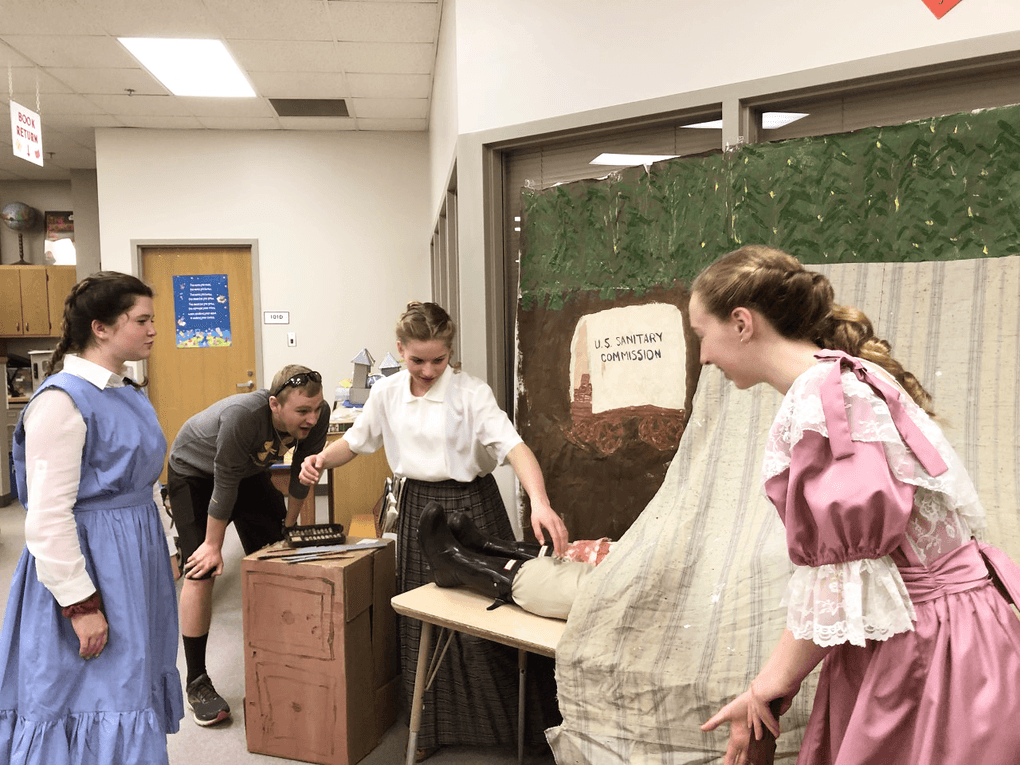 Before saying goodbye to the 2021-22 school year, we released our 2022 Spring Newsletter to highlight the profound stories of how we have supported students, educators and schools. The newsletter is a picture of how we came together for kids. We invite readers to learn more about the story of Becky Boswell, a teacher at Lefler Middle School.  
Becky Boswell of Lefler Middle School has been teaching eighth grade for 27 years. She adores working with kids and bringing them to a place where "a lightbulb goes off and they start to link things together – like the past to the present." 
That's why, 15 years ago, Becky began a unique and creative adventure through the Civil War for her students. Students choose a certain battle, soldier, or story about the Civil War that interests them, and dive into the research. The project progresses with students building their own props, booths, and backdrops. Each student performs a monologue for the class and then they join in groups to unite their stories into play-like productions to perform live in front of parents, families, and friends. Becky laughs as she says, "My room is a disaster for weeks, I have to apologize to the custodians!" 
The assignment has become almost famous at Lefler Middle School with students and families excited for their opportunity to perform and participate in a live audience showing. The experience provides an opportunity for kids who may not have other interests or activities within the school that allows them to be center stage. And it sparks a passion in some kids for a love of history because they are experiencing, not just learning about, the Civil War.  
It's always a huge undertaking from students, staff, families, and supporters of Lincoln Public Schools who sew costumes, buy crafts, and provide talents to make the students' vision come to life. This past year, Becky used the Foundation for Lincoln Public Schools Fund-a-Need program to raise money for more authentic costumes for the women of the Civil War time. The initiative raised $800 for the activity in a few months' time.  
Becky has used the Fund-a-Need program numerous times and she states, "The process is so simple. If you have a project, put it out there. The team at the Foundation is so great to work with, and the community, friends, family, and alums are so generous in supporting these goals for our students." 
Becky is a huge advocate of bringing curriculum to students in engaging ways. She tells us, "There is a way to engage kids creatively where they learn so much while still meeting standards, and the Fund-a-Need program helps support this out-of-box thinking for our teachers and staff." 
Check out all the stories in our 2022 Spring Newsletter (download).