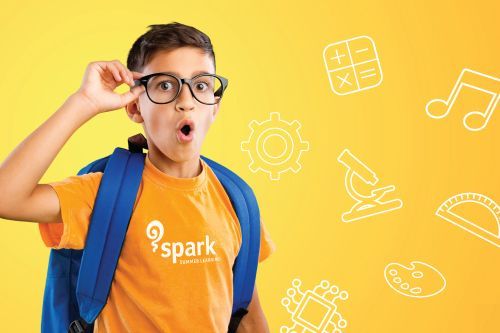 Welcome to Spark! We are a STEAM (Science, Technology, Engineering, Art, Math) focused summer camp located in Lincoln, Nebraska. Spark is a place where kids experience hands-on learning and play like never before. These experiences allow children to dive into new discoveries which set them up to solve real-world problems as they grow. 
Summer is the perfect time to explore, create, and get hands-on. Spark is designed for all elementary aged children (K-5). It takes what kids love about learning and pack the day full of experiences and academic opportunities that help them dream big. Throughout a child's time at Spark, we encourage curiosity and help it grow.
The Makers of Tomorrow
Children may not know what STEAM (Science, Technology, Engineering, Art, and Math) stands for, but they do it every time they solve a problem. Kiddos are at their best when the problem is as wide as their imagination so the problems we solve are BIG enough to span the various STEAM fields. 
Our Spark summer camps, located in Lincoln, Nebraska, offer different themes each week withSTEAM curriculum that cover a wide range of subjects, such as: 
Robotics and Coding
Outer Space
Maker Party
Food and Science
Bugs
Ocean Submersibles
Hydroponics 
Urban Farming
Parachutes
Architecture
Rocks and Artifacts.  
The Foundation for Lincoln Public Schools created Spark because it's what kids love and children are deciding if they identify with these STEAM subjects as early as 3rd grade. By introducing STEAM early and often, in a way that feels like play, more kids are likely to pursue a future career in these impactful fields. 
Educational and Learning Perks 
Our curriculum is from the Boston Museum of Science. It also aligns with the LPS curriculum so children get a chance to freely explore more about what they have learned and get a sneak peek at what is on the horizon at LPS. Our camp instructors are certified teachers or individuals pursuing a degree in early childhood education. Having professionals in the room makes them run smoothly, and the kids love seeing some of their favorite teachers in a new setting.
Overall, these summer learning camps are a great opportunity for children to get ahead in the classroom in a fun and engaging environment. 
Our Why
We are passionate about the work we do for children at Spark, because STEAM matters and kids and parents love it.
"One of my kids favorite themes was Animal Engineers-Bioengineering. The children learned about animal adaptations from a Lincoln Children's Zoo demonstration and from observations they made during a field trip to Pioneers Park. My boys were excited to tell me about seeing a serval cat leap ten feet into the air. These experiences inspired the children to imagine and create new inventions based on animal adaptations. One of the boys' favorite aspects of Spark was the 3-D printer. The boys loved their summer at Spark and I am confident that we chose the best summer program." - Laura Plicanic, Spark Parent
Have We Spark-ed Your Interest? Let's Talk Safety 
Since the start of the pandemic, we have taken every precaution with our learning camps because your child's safety is our number one priority. We take precautions such as: 
Requiring masks
Social-distancing
Twice-daily temperature checks
Consistent handwashing 
We will evaluate the need for continued safety precautions in 2021, but are committed to a safe fun summer of learning.. 
Signing kids up for summer learning camps with content they love is the best and most effective way to spend the summer. 
We understand that online learning may have affected learning productivity, by signing your child up for our fun and educational summer learning camp your child will have the opportunity to avoid knowledge gaps and continue learning. 
Summer Camp Hours of Operation 
Full-Time Programming Monday-Friday, 9 AM - 4 PM
Half-Day Programming Monday-Friday, 9 AM - 12 PM
Complimentary Before Care 7 AM - 9 AM
Complimentary After Care 4 PM - 6 PM
Sign up for our e-newsletter to stay in the loop about all things Spark Summer Learning, click here.
If you have any questions about Spark Summer Learning, please feel free to email us at info@sparksummer.org or call us at 402-436-1612.