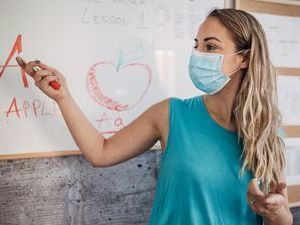 FOR IMMEDIATE RELEASE
October 28, 2020

For more information, contact:
Nia Nielsen, Director of Marketing
nia.nielsen@lps.org
402.436.1612
 
FOUNDATION FOR LPS LAUNCHES THANK A TEACHER GALLERY
LINCOLN, Neb – The Foundation for Lincoln Public Schools has launched an online gallery to honor and thank local teachers. The initiative began earlier this month when members of an LPS Community Advisory Committee learned teachers in the school system were reporting feelings of burn-out.
"We have heard from teachers, parents and community leaders that our educators are going above and beyond during this difficult time of COVID-19, but are stretched thin," stated Liz Ring Carlson, second vice president for communications and community relations at Ameritas and member of the committee. "Teachers are working incredibly hard to balance the needs of their classroom students and those working remotely."
Students, parents, businesses and community members can share their appreciation of LPS teachers by uploading pictures, drawings, videos and words of gratitude. They can also share what they've done to show their appreciation. There are two ways to help spread the message of gratitude:
Submissions can be uploaded to the Foundation website at https://www.foundationforlps.org/thank-a-teacher/. The messages can be to a specific teacher or acknowledge all teachers.
Post on social media and use the hashtags #ThankATeacher, #LPSHeroes or #LPSstrong. 
The effort is centered around increasing positive conversations and raising the collective appreciation around the great work teachers are doing.
During the pandemic, Lincoln Public Schools offers families a choice of in-person or remote learning, requiring teachers to quickly learn and master new techniques of instruction. In addition, there is a shortage of substitutes available and teachers are asked to use their planning periods to cover classes for colleagues when possible.
Foundation for Lincoln Public Schools President Wendy Van DeLaCastro said the efforts and determination of our teachers are unparalleled.
"The school district is paying close attention to the delicate balance between keeping kids and staff safe, and keeping kids learning," added Van DeLaCastro. "LPS teachers, just like their colleagues from across the nation, are also working hard to catch students up on instruction missed last spring, and fight the extra-long summer slide. Now more than ever, it is important we recognize the role our teachers play in kids realizing their full potential."
Ring Carlson said the Community Advisory Committee appreciates the Foundation raising awareness around the challenges teachers are facing during COVID-19.
"As a parent and friend to many teachers we are grateful for the extra effort to help keep our kids learning, growing and maintaining a sense of routine in a very unpredictable time. Ameritas has been a long-time supporter of LPS and the Foundation for LPS so we will be encouraging our associates to help spread thankfulness to our educators and staff that are making a difference. I am confident others in Lincoln will join us too."
To view the gallery, go to https://www.foundationforlps.org/thank-a-teacher/.
###
About the Foundation
Established in 1987, the Foundation for Lincoln Public Schools is a 501(c)(3) not-for-profit organization nationally-ranked school foundation. We believe that all students should have what they need to reach their full potential. In order to accomplish that, we leverage the community to create opportunities that enhance the academic and personal success of LPS students and educators. To learn more, go to foundationforlps.org or call 402.436.1612.
About Ameritas®
Ameritas is a marketing name for Ameritas Mutual Holding Company and its affiliated subsidiary companies, including Ameritas Life Insurance Corp. and Ameritas Life Insurance Corp. of New York. Founded in 1887, Ameritas offers a wide range of insurance and financial products and services to individuals, families and businesses. These products and services include life insurance; annuities; individual disability income insurance; group dental, vision and hearing care insurance; retirement plans; investments; asset management; and public finance. Securities offered through affiliate Ameritas Investment Company LLC., member FINRA/SIPC and investment advisory services offered through the business name of Ameritas Advisory Services. For more information, visit ameritas.com.