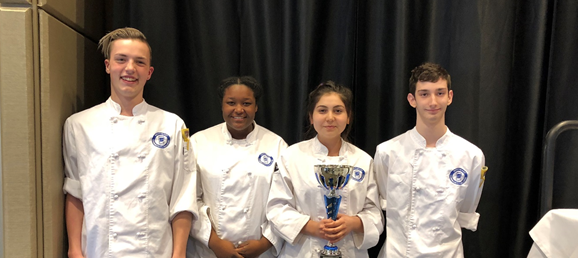 Let's hear it for Guac and Roll! That was a familiar refrain last year at Lincoln Public School's Career Academy. Guac and Roll, a team from the culinary path of The Career Academy, placed in the top 25 of the National ProStart Invitational, a national culinary competition. It is the highest a team from Nebraska has ever placed at this annual competition which took place in April in Providence, Rhode Island. The Career Academy (TCA) team was comprised of Francisco Chavira Gonzalez and Sagan Smith, from Lincoln High, Tessa Mariscal, from Northeast, and Corbin Reinhardt, from Southwest.
It isn't the first time The Career Academy's students have seen success at a competition. "The Career Academy played a huge role in how I got to Nationals, without them I don't think any of this would be possible,"  said Ryley Schuerman, who attended TCA and placed 10th in the national Culinary Arts competition in 2016. "What I'm excited about in the future is that the culinary world is never staying the same, it is always evolving. The thing is I just want to be somewhere on the forefront of that."
However, getting to the competition is half the challenge due to cost. "For us, it's huge. Half of our students are on free or reduced lunch and couldn't normally afford to go to competitions," said Joshua Jones, coordinator at The Career Academy. This statistic mirrors the level of students who qualify for free or reduced lunch throughout Lincoln Public Schools. "We do some creative fundraising, but sometimes that isn't feasible."
The Foundation for Lincoln Public School's Student Experience Fund covers up to half of the cost to attend competitions. Last year, the Foundation helped 10 students who qualified for nationals to take part in those competitions.
"I had three students attend the National SKILLSUSA  competition," said Loran Stara, an instructor in Southeast Community College's Building Construction Technology Program. "Just the magnitude of the event was an eye-opening experience for my students. This solidifies that need for a school like TCA.  All of my students know there is a need for them in the real world, and with a little hard work and perseverance, this can be accomplished."
These achievements and experiences wouldn't be possible without the support of Lincoln's business community and the Student Experiences Fund that the Foundation for Lincoln Public Schools uses to help students and teams, like Guac and Roll, cover the cost of registering for these competitions. "We choose to support The Career Academy because of their hands-on career-based education," said Jim Townsend, Manager of Occupational Safety, Learning, and Development at Kawasaki Motors Manufacturing. "It's really cool when students are able to go to national competitions like Skills USA because they are gaining real work experience. It's a great opportunity to support education in advanced manufacturing."
"We love to see students take their skills beyond our district at state and national competitions. We at the Foundation proud to support The Career Academy and these talented students," said Wendy Van, President of the Foundation for Lincoln Public Schools
The Career Academy is designed to address our community's skilled and technical workforce needs uniquely. As a partnership between Lincoln Public Schools, Southeast Community College, and the business community, this project brings education and industry together to create high-quality, hands-on experiences backed by the rigor of academic credentials and certification.
TCA teaches in the areas of 16 career pathways representing hundreds of Southeast Nebraska industries. Through the high engagement from local industry leaders, students have opportunities provided through internships, mentorships, equipment contributions, scholarships, and field trip aid.
The Career Academy showcases all that community partnership can accomplish.
"We are proud to be involved in TCA's launch and growth, and grateful for the opportunity to make a difference," Van said. "There is so much more these students can do because of our supportive community partners. That's what makes Lincoln a special place to live."