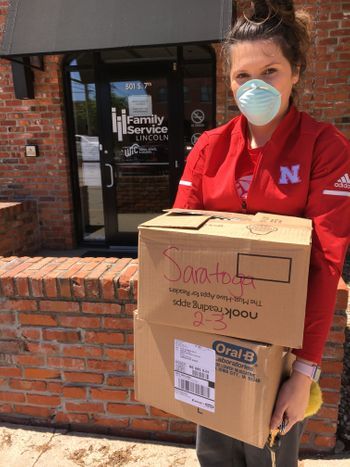 FOR IMMEDIATE RELEASE
For more information, contact:
Nia Nielsen, Director of Marketing
nia.nielsen@lps.org
402.436.1612, 402.560.4916 (mobile)
FOUNDATION FOR LPS ANNOUNCES COVID-19 'Grab & Go Books' CAMPAIGN
Ameritas provides educational materials in partnership with Barnes & Noble and the Foundation for Lincoln Public Schools
The Foundation for Lincoln Public Schools (LPS) announces the Grab & Go Books campaign, in partnership with Ameritas and Barnes & Noble to provide educational materials to K-5 students. In addition to educational materials, Ameritas will also be providing over 2,500 units of hand sanitizer, toothbrushes and toothpaste.
"We know how hard it is to keep kids engaged in learning over the summer, but one of the very best ways to help kids be successful in school is to keep them reading when they're out of school," said Chris Haeffner, LPS director of library media services. "We appreciate the collaboration between the Foundation for LPS, Ameritas and Barnes & Noble to provide this opportunity for local students."
Items are being delivered through the following schools and nonprofits:
Arnold Elementary School
Asian Community & Cultural Center
Brownell Elementary School
Clinton Elementary School
El Centro de las Américas
Everett Elementary School
Girls and Boys Club of Lincoln
Holmes Elementary School
Malone Community Center
McPhee Elementary School
Norwood Park Elementary School
Prescott Elementary School
Riley Elementary School
Saratoga Elementary School

Ameritas and the Foundation for LPS are looking to make the educational materials and hygiene products available at additional locations over the next month.
"The impact of COVID-19 on our families and community is heartbreaking," said Liz Ring Carlson, Ameritas second vice president of corporate communications and community relations. "At Ameritas, education is at the core of our community giving. By providing books and other items for families, we hope to support parents who find themselves in this new teacher role."
The Grab & Go Books campaign is available to any K-5 student. Organizations or community groups may request books by contacting Shannon Raitt, Vendor Relations and Sponsorships Senior Coordinator at 402.325.4108 or shannon.raitt@ameritas.com. All materials are provided by Ameritas in partnership with Barnes & Noble and the Foundation for LPS.
About the Foundation for LPS
Established in 1987, the Foundation for Lincoln Public Schools is a 501(c)(3) not-for-profit organization nationally-ranked school foundation. We believe that all students should have what they need to reach their full potential. In order to accomplish that, we leverage the community to create opportunities that enhance the academic and personal success of LPS students and educators. To learn more, go to FoundationforLPS.org or call 402.436.1612.
About Ameritas®
Ameritas is a marketing name for Ameritas Mutual Holding Company and its affiliated subsidiary companies, including Ameritas Life Insurance Corp. and Ameritas Life Insurance Corp. of New York. Founded in 1887, Ameritas offers a wide range of insurance and financial products and services to individuals, families and businesses. These products and services include life insurance; annuities; individual disability income insurance; group dental, vision and hearing care insurance; retirement plans; investments; asset management and public finance. Securities and investment advisory services offered through affiliate Ameritas Investment Company LLC., member FINRA/SIPC and Ameritas Advisory Services. For more information, visit Ameritas.com.