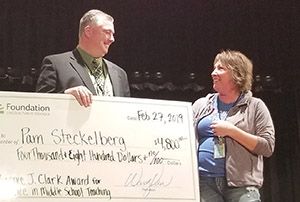 Lincoln, Nebraska – Lefler Middle School teacher Pam Steckelberg was awarded the Florence J. Clark Excellence in Middle School Teaching award by the Foundation for Lincoln Public Schools on February 27, 2019 at a special assembly with students, colleagues and her family.
Steckelberg, in her 27th year of teaching, was recognized for building positive and real relationships with her students while creating a classroom culture with high expectations that also serves as a safe place for students to learn and make mistakes. She was nominated by Lefler's principal, Jessie Fries.
"Steckelberg is a quiet leader who is doing incredible things in her classroom," Fries wrote in her nomination. "She is consistent, positive, thoughtful, motivated and willing to help others in the community, which helps improve student achievement."
"I feel honored to work with such a positive, even-keeled, caring and committed colleague as part of our team at Lefler," she wrote.
Steckelberg knew from an early age that she wanted to be a teacher said her father, Maylon "Catfish" Volf. She was inspired by her grandmother, Ruth Vopalensky, who taught for nearly 40 years in North Bend, Nebraska.
"[My grandmother] was so excited when I became a teacher," said Steckelberg. "I remember her coming that first week and she just sat in my classroom and watched and observed. It was really sweet."
Vopalensky wasn't the only educator in Steckelberg's family. Her father-in-law Darrell Steckelberg also taught for more than 40 years.
"He won the Nebraska teacher of the year award once, and we got to go surprise him in Kearney," Steckelberg said.
Working with middle school students is fun for Steckelberg, who teaches sixth grade math and social studies at Lefler.
"[Middle school students] haven't quite figured out who they are yet and what they think they need from an adult—whether they want you to be right there next to them or whether they want that freedom," she said.
The Florence J. Clark award was established in 2009 in honor of Clark, a former Lincoln Public Schools middle school teacher, counselor and administrator who retired after 35 years in education. She believed that middle school teachers have unique qualities and deserve special recognition for their dedication and work to continually improve student achievement and development. Two educators are recognized annually. Winners receive a certificate and monetary award.
Previous award winners include Michalla Schartz of Lefler Middle School, Amanda Mueller of Mickle Middle School, Katie Karabel of Schoo Middle School, Lance Kassebaum of Park Middle School, Betsy Miller of Irving Middle School and Mike Hix of Schoo Middle School.
For a short video, visit: https://youtu.be/436Ucfej2oI.