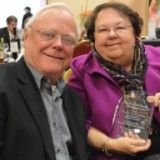 Kathy and Richard B. (Dick) Campbell are longtime residents of Nebraska.  Dick graduated from Lincoln Southeast High School and their two children, Andy and Carrie both from Lincoln East High School.  Kathy began her career in education, quickly moving into business as Campbell's Nursery, Mgr. of Accounts Payable, and into extensive non-profit work on behalf of children.
Throughout her career, Kathy has also held numerous volunteer leadership roles in community organizations, served for 16 years as a Lancaster County Commissioner, served on many non-legislative committees and, in 2009, was elected State Senator for Lincoln's 25th District.  Kathy, serving as Ex. Vice President for Cedars Home for Children, continued to take on leadership roles in many public service and public policy efforts.  Kathy was Co-Chair of the LPS Student Housing Task Force, Co-founder of the United Way Women's Leadership Council, named Woman of Distinction by the NE Commission on the Status of Women, and in 2006, the Lincoln Chamber of Commerce presented Kathy with the Roger T. Larson Community Builder Award. 
Dick Campbell is past President of Campbell's Nurseries, President of several Lincoln development projects, past President of Lincoln  and Nebraska Chambers of Commerce, member of Lincoln's Vision 2015, and is frequently called upon to Chair or serve on future visionary projects including Mayor's Arena Task Force and Jobs for West Haymarket Arena. He also received the Lincoln Chamber of Commerce Roger T. Larson Community Builder Award in 2009.
Kathy and Dick decided to gift charities within the Lincoln Community upon their deaths. They believe in leaving a legacy of continuing service and enhancement of Lincoln citizens' lives for years to come.