STEAM Programming
---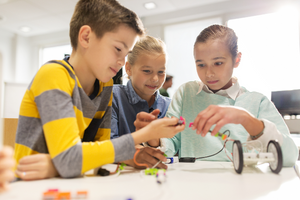 Children can't turn off their curiosity, and who wants them to? The summer is the perfect time to explore, create, and get hands-on in ways that children can't get enough of.
We take what they love about learning and pack the day with the time and talent that helps them dream big. At the beginning, middle, and end of the day, that curiosity is beautiful and we help it grow.
The Makers of Tomorrow
---
Experience STEAM learning by getting their hands dirty with our community partners and create friendships.
STEAM 
Children may not know what STEAM (Science, Technology, Engineering, Art, and Math) stands for, but they know how to do it. The problems they want to solve are big and broad so the STEAM fields had to join forces and make this acronym.  
 
Design Thinking
No one knows what tomorrow will bring, but the bigger the problems the bigger the solution. Spark students learn how to approach problems with design thinking. Our simple 5-step Design path sets the scene for them to solve challenges creatively. We can't tell you about the future, but we can help you make it. 
 
Staff
Our staff members are certified teachers most of whom come from Lincoln Public Schools. This is huge because we like lots of children working on lots of projects so having pros in the room makes the whole thing run smoothly. 
 
Get a Jumpstart
Spark learning aligns with LPS curriculum so children get a chance to freely explore more about what they have learned and get a sneak peek at what is on the horizon.