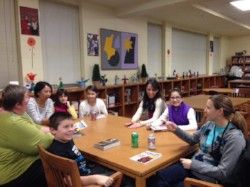 Jennifer Cejda redefines the librarian role every day of her life. For her, the library contains more than black text, creased spines and barcodes. The One Book, One Family program was already established at Irving through a grant to the Foundation for LPS from Wells Fargo. This creative and popular program is a great example of "Beyond the Classroom" – one of the pillars of the Foundations work.
The One Book, One Family Program originated at Irving as an extracurricular activity for parents and students to strengthen their relationship and find common interests. This program gives parents a chance to see their kids interacting with other children during discussions that challenge the way they think and reason. One Book, One Family encourages families to enjoy reading together and creates opportunities to facilitate daily conversation about things other than school work.
It has also created a community of parents that Jenn can go to with ideas and communication. The program has been so successful, it has doubled the number of participants in the past five years (up to 53!) with the help of Language Arts teacher Betsy Miller. The Foundation grant provides funding which covers the cost of attendance, meals and other improvements. Building community connections with businesses that donate to the program has been another positive outcome of the program.
One particular student started out as a shy sixth grader when she first joined One Book, One Family. By the time she was in 8th grade, she led discussion and encouraged interaction between all of the other students. One parent expressed her support for the program saying, "As a parent of a teen boy, it is always a treat to have something to enjoy together. I am certain that this takes a lot of time to organize, and we are so grateful that Mrs. Cejda continues to do it."
Students from sixth, seventh and eighth grade are encouraged to join and participate. Determining which books might provoke discussion and exploring various genres helps appeal to all kinds of readers, according to Jenn. "It's fun to see both kids and adults 'testing the waters' with different genres and exploring how literature speaks to them." A wonderful part of group interaction is that it leads to friendships that expand across grade levels and helps bring the Irving community together. "It really is a great way to engage families, encourage reading and bring our school community together, and we are so grateful for the support that allows us to do that.
To help support this fund, click below
GIVE NOW