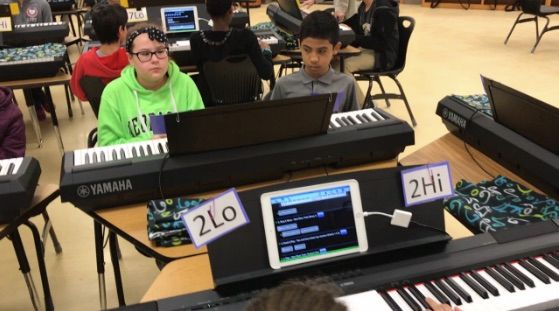 With help from Foundation donors, MarySue Harris and the Pearle Francis Finigan Foundation, Goodrich and Moore Middle Schools have new Yamaha piano labs. 
The piano labs are designed to be an interactive way for middle school students in a general music classroom to engage in learning music concepts and skills. The lab includes 14 keyboards with two students sharing one keyboard, one teacher keyboard, iPads for each keyboard, and a sound system. 
The iPads house the curriculum in which students learn about the basic elements of music by playing and responding to music. The curriculum was developed and piloted by Dr. Brian Moore from the University Of Nebraska Glenn Korff School Of Music. Students also learn to create their own compisitions by interacting with Garageband where they record and manipulate the music.
 This cutting-edge curriculum supports the LPS innovative learning initiative where students have opportunities to be creative in music composition and performing. Goodrich and Moore are the first two schools in the world to have piano labs like this. Goodrich music teacher Shelly Lyon, comments "this has been a very positive way to engage students in music learning. It may also encourage students to start piano lessons on their own time."  Music Curriculum Specialist Lance Nielsen notes "These labs are a wonderful addition to the innovative mindset initiative both middle schools are working to implement within their curriculums."