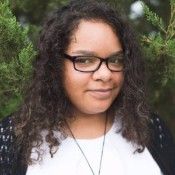 After travelling to France through the LPS "Know Your Neighbor Study Tours" program, Tiauna Lewis reflects on her journey abroad and the experiences and people who helped her to get there.
She initially found out about the trip through her former French teacher and good friend, Madame Sarah Parkening. Parkening herself had gone on the trip when she was in high school, and encouraged Tiauna to apply. Taking her advice, Tiauna attempted to apply her junior year in high school, but was unable to finish the application due to a lack of necessary funding.
This did not discourage her however, as just the next year, Tiauna began working with Jamie Holbein Swanson to apply once more. As the Curriculum Director for world languages in Lincoln Public Schools, Swanson rekindled Tiauna's interest in France after visiting Lincoln High School and talking to the foreign language students about the study abroad program. This year, Tiauna was determined to finish the application, aided by Swanson through the difficult and extensive process. "She kept me going through the application, even though it at many times, wasn't easy."
The process was especially difficult for Tiauna, as she was not only applying to travel through the program, but to have her trip funded as well. Ultimately, with Swanson's help, she was able to secure a scholarship from a donor through the Foundation for LPS to fund her trip to France. At this point, she and three other high school girls were set to go abroad together accompanied by supervisor, Madame Tangen.
Before leaving, Tangen prepared the girls for culture shock by conducting weekly meetings where they would practice the language and etiquette. Despite this, Tiauna recalled the difficulties of both remembering all the different ways one has to be respectful in the French culture, and climbing over 2,000 stairs to the top of Notre Dame. She also explained, however, how incredibly worth it the entire experience was. The chance to experience different contexts, perspectives, and people first hand was incomparable to anything she was able to take from the French classroom. Her language skills improved significantly, and despite the extensive climb, seeing Paris from atop Notre Dame was her favorite part.
"If it weren't for the Foundation, low income students like myself would never have the opportunity to see a foreign country or experience a foreign culture in such an immerse way. It's a completely life altering experience to know that there's a group of people in our community who are so passionate about providing those types of experiences to students like me."