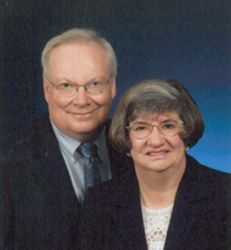 Robert L. and Billie Carole Bussmann retired from the Lincoln Public Schools after 35.5 and 36 years respectively.  Billie spent her entire tenure with LPS teaching business education at Pound Junior High Middle School.  Robert began his career at Prescott Elementary School where he served as a classroom teacher, team leader, and coordinator. He was also a coordinator at Clinton Elementary and later became a principal at both Elliott and Arnold Elementary Schools.
Billie received an Associate of Arts Degree in Business from St. John's College, Winfield, KS; a Bachelor of Science, Business Education from Emporia State University, KS; and a Master of Education, Business Education from University of Nebraska-Lincoln.
Robert's degrees are all from the University of Nebraska-Lincoln. They include:  Bachelor of Science, Elementary Education; Master of Education, Elementary Education; and Certificate of Specialization in Educational Administration and Supervision.
The Bussmanns are active in a number of retired educational organizations. Billie is involved with the retired Business Education Teachers and is an officer in the Lincoln Education Association-Retired. Both belong to the Lincoln Area Retired School Personnel (LARSP). Billie serves as the Community Service chair and Robert if president of LARSP.  Robert is also on the board of directions for the Nebraska Association of Retired School Administrators (NARSA). Billie volunteers on a regular basis at the Foundation for LPS making "thank you" calls to donors.
In their estate plans, the Bussmanns have designated a percentage of their respective revocable trusts to the Foundation for LPS. "As retired LPS educators, we believe that when you support the Foundation for LPS, you are enriching the educational opportunities for our students today and for the future. This has been our life's work and we are delighted that it is now part of our Legacy."
Billie volunteers on a regular basis at the Foundation for Lincoln Public Schools making "thank you" calls to donors.