Foundation for LPS "Take 3"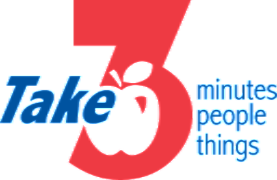 For American Education Week, LPS invited students, faculty, and parents to "Take 3." That is, take three minutes to talk to someone about why they were proud to be in LPS. To help us celebrate Thanksgiving, we've compiled our team's "Take 3" moments, so that we can give thanks to the amazing school district that we're proud to be a part of!
Wendy Van, President

"My son had the opportunity to work with an LPS teacher who challenged how he looked at math and science. She made these concepts come alive to him through laughter, intelligent banter and downright fun. And he learned. He applied complex concepts to ordinary ideas at a very young age and today is poised to enter college able to think critically--he looks at math and science through a social lens and his teachers at LPS helped make this happen for him."

Shaun Harner Vanneman, Director of Community Engagement

"WEX is a class in the pre-IB program at Lincoln High School where kids first learn to critically think. The educators there tell us at parent-teacher conferences that many times classes like this aren't offered to such young minds because standard practice says that students this young can't comprehend college-level material. But in this program, kids have an opportunity to stretch their minds. My son loves this class so much, and it was my daughter's favorite high school class, even though it was the one she worked at the hardest. I love that these kids are challenged, and they love it, too!"

Kristin Holmes, Director of Philanthropy

"Philanthropy is often unseen support, belief, or investment. TCA has turned philanthropy into real-life pathway support team members with a face and a name. The kids know exactly who to say thank you to."

Gary Reber, Development Officer for School Communities

"I love seeing the thank you notes LPS kids make for donors to their teachers' Fund-a-Needs. I love talking with principals about ways their Fund for Excellence can help students, and I love how teachers, principals, administrators, janitors, carpenters -- everybody I meet -- are so committed and passionate about doing amazing work for students!"

Katie Pryor, Financial Assistant

"I'm proud to work with a school district that knows the power of community engagement and school foundations."

Karon Tarletsky, Development Coordinator

"I feel fortunate to have had all my children attend Lincoln Public Schools. Not only did they receive a first class education, but experienced the caring and supportive environment that exists within our school system. LPS gave them the tools to succeed and I am excited about their future."