2016 Thank You Teacher Awards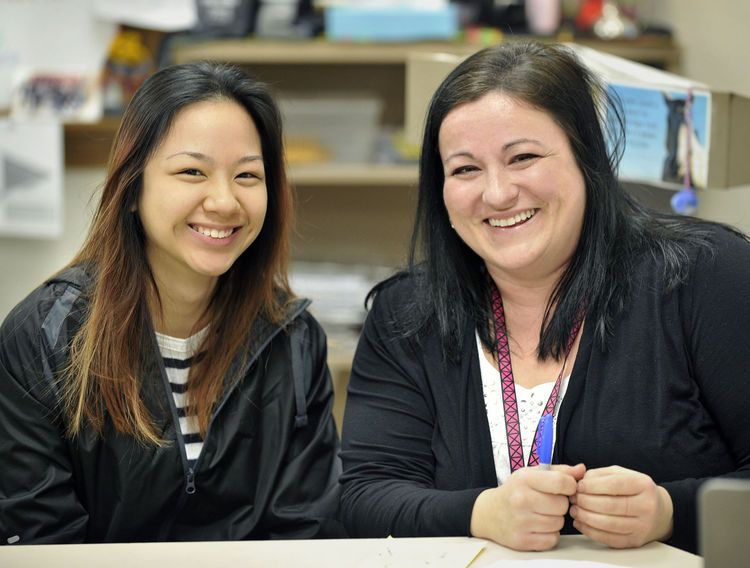 Sheridan Elementary School first grader Hugh Skretta says his teacher – Amy Judd – is kind "because she only sends students to the safe seat – a place where kids think about their behaviors – if they interrupt too many times or are being disruptive or hurtful…She makes me feel special because she is excited to see me in the morning and tells me I'm smart…Whenever she talks to people she looks them straight in the eyes…She always has her best effort, like when she ran in a marathon and felt like her feet were on fire but she kept going."
Hugh was one of five students whose letters were selected to honor five winning teachers – all featured in the annual Lincoln Public Schools Thank You Teacher breakfast ceremony held Tuesday in honor of Nebraska Teacher Recognition Day. There were more than 500 entries this year.
Cavett Elementary School teacher Ed Aken was honored by his student, Will Jesske, a fifth grader who wrote: "School started in August and the adventure began. Mr. Aken knew that I struggled with reading and he knew that he could help me find ways to discover the joys of reading. He takes the time to understand why things can be hard for children and how to make learning fun. He never makes you feel dumb or stupid…He is an inspiration and has helped me find joy in reading which I wasn't sure would ever happen to me."
Vanskiver Sundling, a student at Lincoln Southeast High School, and his sister, Velicity Sundling, a Park Middle School student, nominated Park middle school teacher Jai Burks: "Mr. Burks is one of the most patient teachers we both know (you have to be when you give a group of middle students something that makes a lot of noise and at times may not sound the best)….We believe he is deserving of this recognition as he treats his students like they are his own kids."
Han Lee, a student at Lincoln High School, said that her English Language Learning teacher Elizabeth Okereke was one of the first people to ever ask her about her hopes and dreams. "She asked about my goals, about my family, about my story…I clearly remember how she admired my dream although many people thought that was not realistic…Ms. Okereke, there's nothing I can say more than thank you so much for everything you have been giving to me. Thank you for coming into my life."
Finally, former Lincoln High student Joy Nagengast nominated the winning educator in the retired category, former Lincoln High counselor Marcia Benner: "I didn't talk to a lot of people and if I couldn't talk to my mom I knew I could always go to Ms. Benner for help…Whether it was just to visit, help with class, or that I forgot my lunch money she never let me down. She was never judging me, just supportive and caring."
This year's Thank You Teacher awards went to:
 Preschool-Grade 2: Amy Judd, Sheridan Elementary School teacher; nominated by Hugh Skretta, Sheridan.
 Grades 3-5: Ed Aken, Cavett Elementary School teacher; nominated by Will Jesske, Cavett.
 Middle School: Jai Burks, Park Middle School teacher; nominated by Velicity Sundling, Park; Vanskiver Sundling, Lincoln Southeast High School.
 High School: Elizabeth Okereke, Lincoln High School teacher; nominated by Han Le, Lincoln High.
 Retired: Marcia Benner, former counselor at Lincoln High; nominated by former Lincoln High student Joy Nagengast.
The event is sponsored by Lincoln Public Schools and KFOR/KFRX/Digity Communications.